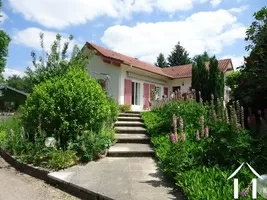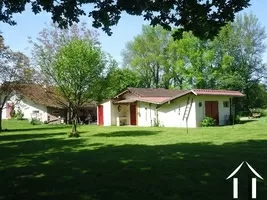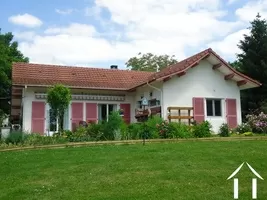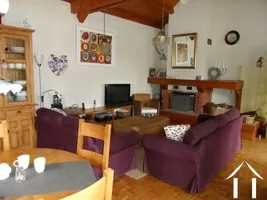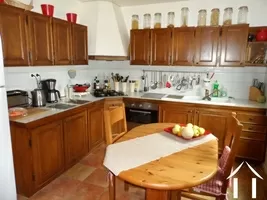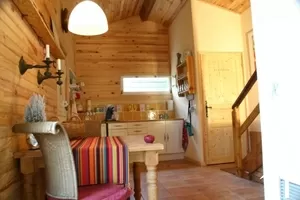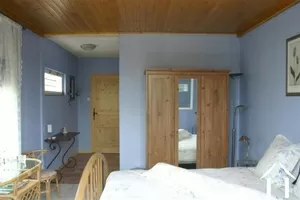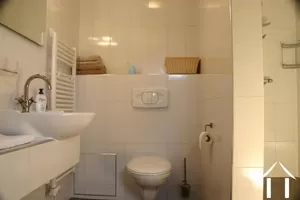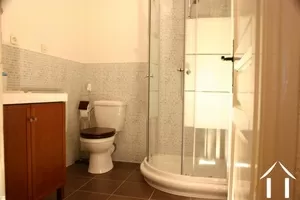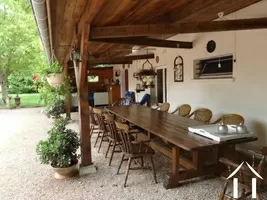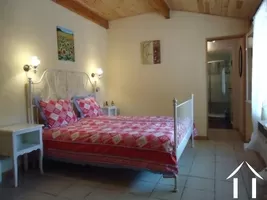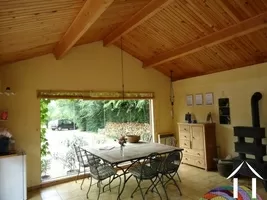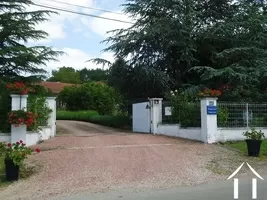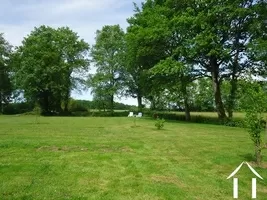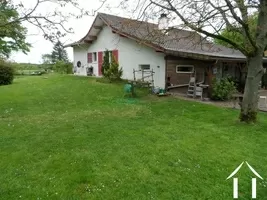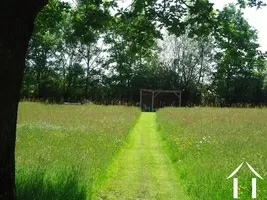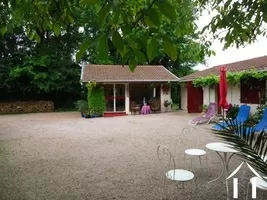 Nice villa with succesfull B&B and possible mini camping
Ref #: BH5107V Estate agency fees are paid by the vendor
LA CHAPELLE SAINT SAVEUR, SAONE ET LOIRE, BURGUNDY
Cosy house in the Bresse-Burgundy region, close to Switzerland with an successful B&B, Mini camp site ready to be exploited. Situated to the south of Pierre de Bresse
Well kept house located in quiet countryside not far from a market town with all amenities; supermarkets, restaurants, doctors, a bank and a dentist.
This cosy villa comprises of a living room, kitchen, hall, 3 bedrooms, 3 bathrooms, separate toilet, summer kitchen, conservatory or. 2nd living room, garage, 3 barns and 2 attic storage. The villa is situated on a large plot of approximately 14 287 m2.
The villa is solid and built in 1988 on a little hill. A good foundation and crawl spaces beneath the villa make ensure that this house is absolutely dry.
Thermal insulation in walls and roofs, as well as double glazing make the house easy to heat, comfortable and efficient.
The living room has a beautiful ceiling with double height, double doors to the terrace and a fireplace. The kitchen is fully equipped with upper and lower cabinets. The 3 bedrooms have separate bathrooms. Two with shower, toilet and sink and the third with bath, bidet and toilet.
The villa is connected to a "Fosse toutes-eaux" (septic tank) that is up the latest European standards. The electrical heating system consists of individual radiators with thermostats. Each radiator has its own fuse in the fuse box. As a result, the heating is centrally adjustable, but also per room. When the fireplace as is lit, the electric heaters will adapt their output. The house is energy efficient and heating costs are lower than with a central heating oil or gas. So no pipes that can freeze and burst, very important for a holiday home.
Attached to the rear of the villa is a beautiful veranda of approx 42 m2. Ideal for outdoor dining with the guests or friends.
At the front of the house is a driveway of 45 meters long with a lavender hedge. On the driveway and at the side of the house, space for 5 cars.
At the rear of the house is a courtyard, "the cour", with access to two bedrooms, the winter garden or 2nd living room, garage and 3 barns. The 2nd living room with a fireplace is cosy and can also be used as winter garden or art studio. Originally, this space was built as a billiards room. The windows and doors are therefore of tempered glass (Securite).
There is also a stone night shelter for the chickens and a large chicken coop of approximately 250 m2. For watering the many plants and the organic vegetable garden of 200 m2, a pump with 3 taps has been installed in the well.
The grounds are spacious with beautiful meadows and some beautiful old oak trees. A bright, well-kept garden around the villa completes the picture!
Property# BH5107V
Quality

Terraces and balcony surface (m²)
40
Surface outbuildings m²
90
Situation
Other situation
Quiet area
Nearest railway station
Mervans
Distance Railway station (km.)
18
Extra Features
Parking for number of cars
4
Exterior features
Fields, Garden, Terrace, Work shed / Barn, Vegetable garden, Wood storage, Work shop
Energy
Heating
Electric, Open fire or wood burner
Other features energy
Electricity connected, Mains water connected
Primary energy consumption
(kWh /m2.year)

220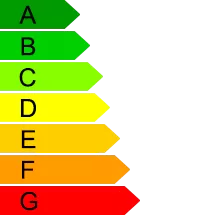 Estimated emissions
(kgco2/m2.year)

20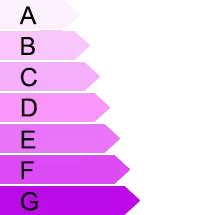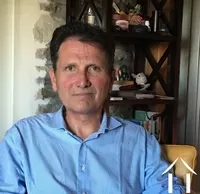 Person managing this property
Benjamin Haas
Téléphone: +33 6 75 01 62 00
Address: Meursault
Gerant-Agent Immobilier Dijon 440 793 826
Bourgogne
The Bresse-Bourguignonne


Lush pastures


Romantic castles and brick medieval farmhouses


Chickens for gastronomes


Bordering the Jura mountains, the Alps and Switzerland


Charming houses, big plots and peace and quiet


View more