Two small houses
Ref #: Li775
Estate agency fees are paid by the vendor
R:
House for sale BUJALEUF 87460 HAUTE VIENNE Limousin
At the end of a cul-de-sac and just 5 minutes' drive from a swimming lake is this semi-detached house. The house consists of 2 parts; a stone part and a wooden extension. ExtensionThe latter is in better condition than the stone part. This part is double glazed. It offers a kitchen with a fireplace and 2 bedrooms. There are shutters on the outside and some windows have rods. The bathroom has a bath and sink, but currently only a (temporary) dry toilet. Also, the layout can be improved. A connection can be made between the 2 houses.
 Old houseThe stone part has a beautiful heavy door and the windows have wooden shutters. There are two rooms. The wallpaper is falling off the walls due to moisture damage, but the walls and floor are completely dry. The windows (single glazed here) are in need of replacement. On the right side of the house is an attached barn. The 2 parts cover an area of 61 m², divided into 5 rooms. GardenThe garden of 692 m² is easy to maintain. At the front, facing south, there is room for a terrace. Both parts are at the back against the ground because it runs under slope. Because the garden is on a slope, you look over the neighboring sheds with corrugated iron roofs. In the garden is an old toilet house.SurroundingsThe village of Bujaleuf is only a few minutes away. Here are several amenities such as a supermarket, bakery, bar-tabac, pharmacy and hairdresser. There is also a large swimming lake with an attractive beach. From June to September, the beach-restaurant hosts many musical events on weekends. The larger villages of Eymoutiers and Saint-Léonard-de-Noblat, where you'll find a big supermarket, are 15 minutes' drive away. Limoges is 35 minutes away.
A file on the environment risks for this property is available at first demand. It can also be found by looking up the village on this website
georisques.gouv.fr
Property# Li775
Quality

Situation
Situation
other situation
Airport at
Limoges Bellegarde,Brive-la-Gaillarde
Extra Features
Energy
Energy and climate performance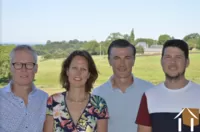 Person managing this property
Inge V d Ziel (l4u)
Téléphone: +33 (0)5 55 78 28 84
Address: La Croisille en Briance
Agent Immobilier SIRET 52190005000019
Limousin
Limousin information
Peace and space

Real seasons

400 km of Paris

Authentic farmhouses

An astonishing heritage
View more