Longère to be renovated
Ref #: Li812
Estate agency fees are paid by the vendor
R:
House for sale MEILHARDS 19510 CORREZE Limousin
This renovation project needs a courageous buyer: the house needs to be completely renovated. There is about 60 m² of living space with the possibility to extend the area in the adjoining barn. It is situated along a quiet road, but close to the small village shops.The house On the ground floor there is a kitchen with inglenook fireplace and a scullery. To the left of the kitchen is a first room with built-in cupboards. This room is built over a cellar. A second, slightly smaller room is also accessible from the kitchen. The attic of the house is accessible from the outside.
The adjoining barn has two levels: the stables on the street side and the barn for storing hay and farm machinery above. Diagonally next to the house is a hangar with a breezeblock building. The roofs are of asbestos slate and corrugated asbestos cement sheets. This property has a nice potential, but you have to roll up your sleeves!  The land The land of 17.486 m² is slightly sloping and is located on the north side of the house with a meadow behind the hangar. This meadow has always been grazed by sheep, but they have been gone for some time.... The property is located on a quiet road. Diagonally opposite the property are three building plots for sale, so there will be neighbours one day.Amenities The village in which this house is located has a bar-restaurant, a small shop with dépot de pain, a petrol station-garage and a school. On Fridays, many know how to find their way to a farm selling organic meat and bread. This farm has a meet-and-greet function for miles around! But the village itself also has several associations : the gym and walking club, dance club, historical club etc. The village of Chamberet, with more shops and amenities is less than 10 minutes away. Bakeries, butchers, several big supermarkets and of course restaurants for lunch or dinner can also be found in Uzerche, which is 25 minutes away. The latter village has a beautiful medieval centre where the river Vézère meanders, and an active community life: petanque club, canoe club, sports hall, rugby etc. Moreover, events are organised regularly: autumn festival, flea markets, garage sales. The vintage car swap meet in mid-July is very well known. Limoges and Brive Airport are to be reached within 50-60 minutes' drive.
A file on the environment risks for this property is available at first demand. It can also be found by looking up the village on this website
georisques.gouv.fr
Property# Li812
Quality

Situation
Airport at
Limoges Bellegarde,Brive-la-Gaillarde
Extra Features
Energy
Energy and climate performance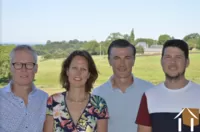 Person managing this property
Inge V d Ziel (l4u)
Téléphone: +33 (0)5 55 78 28 84
Address: La Croisille en Briance
Agent Immobilier SIRET 52190005000019
Limousin
Limousin information
Peace and space

Real seasons

400 km of Paris

Authentic farmhouses

An astonishing heritage
View more