7-Bed character house in the heart of the village
Ref #: Li826
Estate agency fees are paid by the vendor
R:
for sale LA CROISILLE SUR BRIANCE 87130 HAUTE VIENNE Limousin
   This large village house, formerly a hotel, built in the year 1900, is located in the centre of a village with shops and schools in the Millevaches in Limousin regional park, about 35 minutes south-east of Limoges. It could be restored into a small boutique hotel, divided into several flats, accommodate a family that could have its commercial or craft activity on site or simply be suitable for a large family. There are many opportunities here!The houseIt consists, on the ground floor, of a North-facing entrance hall (16 ½' x 5'9") with WC and stairwell.
To its right, a bedroom (14'7" x 8 ½') with large bay windows and ensuite bathroom/toilet. To the left of the entrance, a kitchen (13'8" x 14'4") opening onto a dining room (15'7" x 10'1") with French doors and built-in cupboards. On the South-facing side, a large living room of more than 40sqm (28 ½' x 16'7") with a bar and French doors to the garden. From this room, there is access to a living room (17'9" x 12'3") and a hallway (3' x 11 ½') to the bedroom. From the entrance landing, stairs lead down to a cellar over ¾ of the building's floor area. This houses the oil-fired central heating (no longer in working order) and its hot water tank. On the first floor, a landing (19'2" x 5'7") leads to a north-facing bedroom with ensuite bathroom and toilet (18'4" x 8'8"), two other bedrooms (15'4" x 13'1" and 15'4" x 11 ½'), one of which has a built-in wardrobe. A central corridor (26'2" x 3'6") provides access to a shower room with WC (6'1" x 4'6") and three additional bedrooms (14'7" x 12'8"; 14'7" x 12'3" and 14'1" x 16'), the largest of which has a washbasin.  From the landing, a staircase leads up to a large convertible attic over the entire footprint of the house, ie. almost 100sqm (43' x 23') in total. Four "dormer" windows adorn the natural slate roof, which has unfortunately suffered greatly from bad weather and lack of maintenance, as it has not been inhabited for more than 5 years. Water infiltration got the better of part of the attic floor and that of two of the bedrooms on the first floor. It will therefore be necessary to plan to lay some new floors, change the roof slates as the frame can still be used. It will also be necessary to redo part of the insulation and put a new kitchen in as it was directly affected by the water damage. The house is fully fitted with double-glazed PVC joinery, which is a good thing, given its many openings.   The gardenThe house has a small front garden on the street side with a low stone wall with a wrought iron fence and double gate. On the south-facing side, a flat garden of around 3500ft² with a few trees and a small ornamental pond, has a double gate opening onto a dead-end alley at the back.    Access and amenitiesThis house is close to all amenities (shops, chemist's, nurses, doctors). The primary school is within walking distance. The centre of Limoges is about 35 minutes by car. There are two train stations within less than a quarter of an hour's drive. The line runs to the south to Brive-la-Gaillarde and Toulouse and to the north to Paris Austerlitz.
A file on the environment risks for this property is available at first demand. It can also be found by looking up the village on this website
georisques.gouv.fr
Property# Li826
Quality

Situation
Airport at
Limoges Bellegarde,Brive-la-Gaillarde
Extra Features
Energy
Energy and climate performance
High climate efficiency
E
Consumption
(main energy source)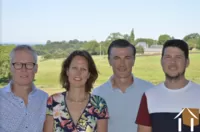 Person managing this property
Inge V d Ziel (l4u)
Téléphone: +33 (0)5 55 78 28 84
Address: La Croisille en Briance
Agent Immobilier SIRET 52190005000019
Limousin
Limousin information
Peace and space

Real seasons

400 km of Paris

Authentic farmhouses

An astonishing heritage
View more