Your perfect (holiday) Limousin farmhouse to renovate?
Ref #: Li842
Estate agency fees are paid by the vendor
House for sale LA CROISILLE SUR BRIANCE 87130 HAUTE VIENNE Limousin
This pretty farmhouse with attached stone barn, lean-to, well and sheepfold is located in a quiet hamlet near La Croisille sur Briance, within the Millevaches regional park in the Limousin region, about forty minutes' drive from Limoges and its airport. With its enclosed garden of just under ¼ acre, it is a nice investment, whether you wish to enjoy it yourself all year round or as a holiday home, or to turn it into a seasonal rental.
Its roof and that of its barn will be new and in beautiful natural slates, all you have to do is refresh its interior the way you want!  The dwellingThe south-facing three-floor exposed stone house consists of a main entrance on the 1st floor, on the west gable, with solid steps and a terrace, which is ideal for dining while enjoying a lovely view of the surrounding countryside. You enter into a ca. 350sqft living room/kitchen with two south-facing windows. A Godin-branded wood stove heats the room and most of the floor. To its right, two north-facing bedrooms of 97 and 102sqft respectively. This floor is entirely laid over a solid chestnut flooring. An extension over a concrete floor, was created in the 1980's within the adjoining barn, is accessible from the living room and comprises of a bathroom with a separate toilet for a floor space of ca. 110sqft. It will therefore be possible to further increase the living space in the barn, as the village's planning map will allow you to do it. A staircase runs from the living room up to the ca. 430sqft attic which can be converted under the eaves of the roof. Another staircase runs down to the ground floor. It consists of a secondary entrance into the original kitchen with a floor area of approx. 166sqft and it features the original exposed fireplace. It currently serves as a utility room with a connection for the washing machine, a sink, the 33-gallon (150-litre) hot water tank and the freezer. An internal staircase connects this room to the living room located just above. To the left of the utility room, a room of approximately 166sqft has been converted into a bedroom, only useable in the Summer as it does not have heating. Behind the utility room, an 86sqft pantry/cellar with a small-pebble stone floor. From the cellar, you access a second 96sqft cellar, then a staircase goes down to a 3rd front-to-rear cellar located partly under the summer bedroom.  The outbuildingsAdjacent to the house, an open barn offers beautiful additional convertible and/or storage space. It has a floor area of just under 1100sqft divided as follows: two stables of 180 & 300sqft, one of which is located under the 1st floor bathroom extension. Then comes a 226sqft open barn and a 3rd stable of approximately 300sqft. Attached to the east gable of this barn, a stone and slate lean-to of approximately 260sqft can be used as a garage or woodshed. A small separate stone and slate sheepfold rounds up the list of outbuildings.  The gardenIt is not large for the area, but it is flat and fenced, and has an antique wooden double gate and pedestrian gate. There is a private well which should be able to supply enough water for a vegetable garden (to be created) or for the flower beds. Note that the rear of the house/barn/lean-to buildings line the property's boundary, which is bordered by a public dirt road providing access to the woods right behind. A little walk there with the dog is a must!   Access and amenitiesThe property is located on the outskirts of the village of La Croisille sur Briance, less than 5 minutes by car or a little more than 5 minutes by bike, along a small, relatively flat road. The village is dynamic and has all the basic amenities, plus a garage, a pharmacy, two GP's and a state primary school. You are a fifteen-minute drive from Châteauneuf la Forêt, its brand-new supermarket and its swimming lake. The region is well-known for its fresh air, its traditional French way-of-life and its unspoilt nature.
A file on the environment risks for this property is available at first demand. It can also be found by looking up the village on this website
georisques.gouv.fr
Property# Li842
Quality

Situation
Situation
other situation
Airport at
Limoges Bellegarde,Brive-la-Gaillarde
Extra Features
Energy
Heating
Wood (chip) fired
Energy and climate performance
High climate efficiency
G
Consumption
(main energy source)
Property with extremely high energy consumption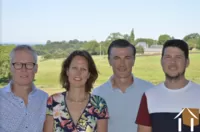 Person managing this property
Inge V d Ziel (l4u)
Téléphone: +33 (0)5 55 78 28 84
Address: La Croisille en Briance
Agent Immobilier SIRET 52190005000019
Limousin
Limousin information
Peace and space

Real seasons

400 km of Paris

Authentic farmhouses

An astonishing heritage
View more