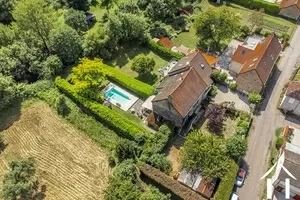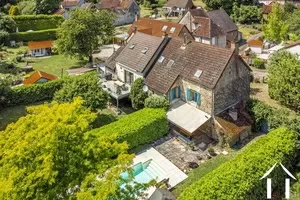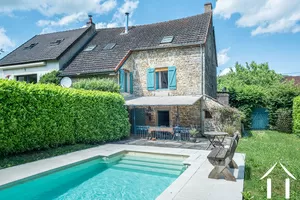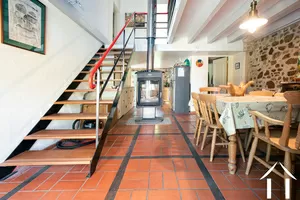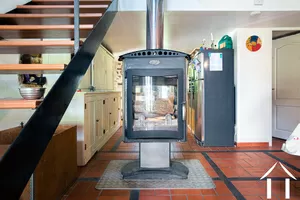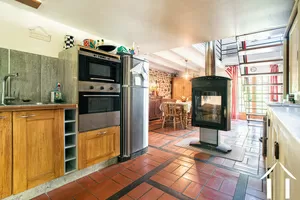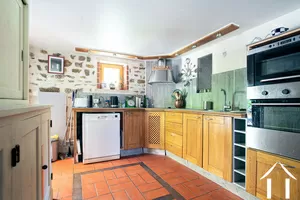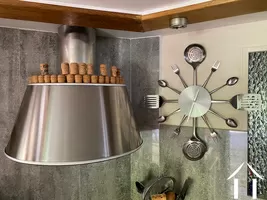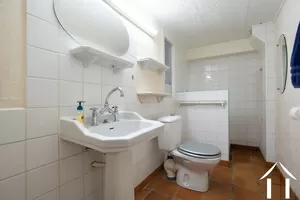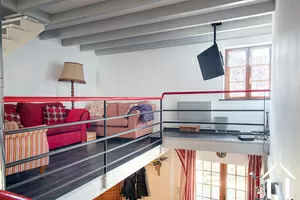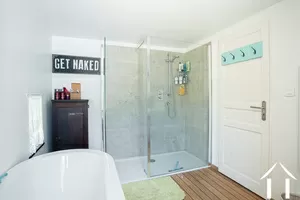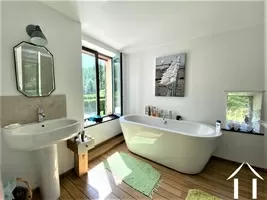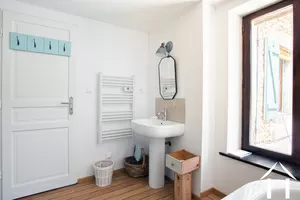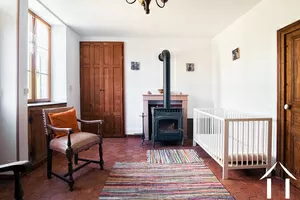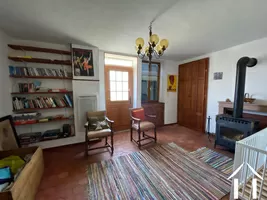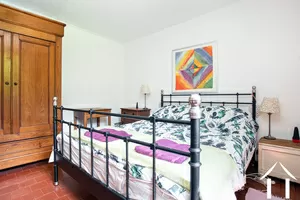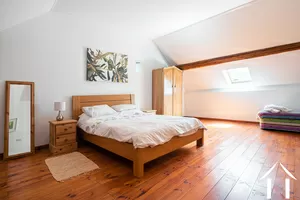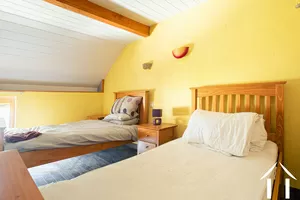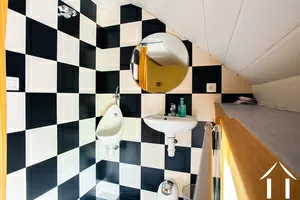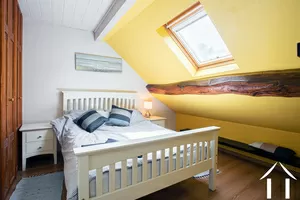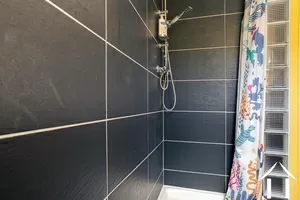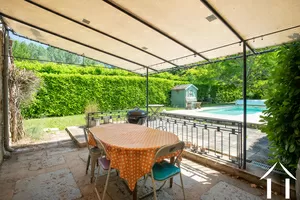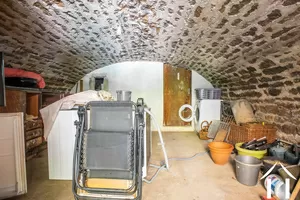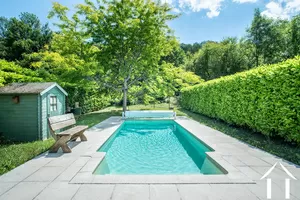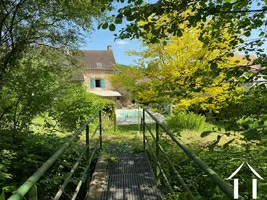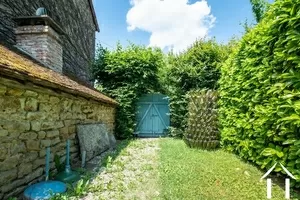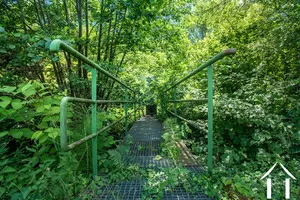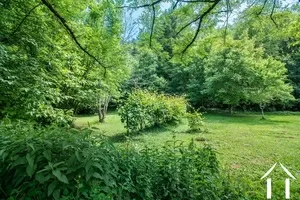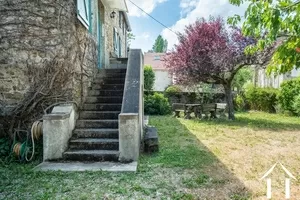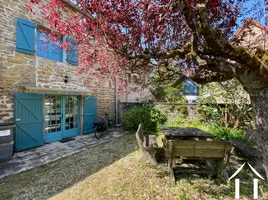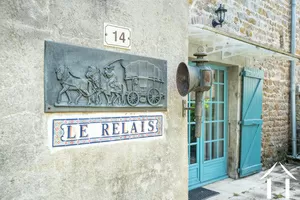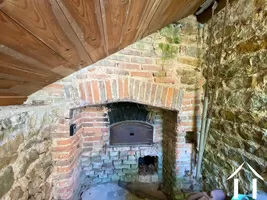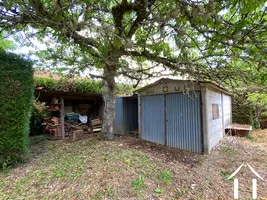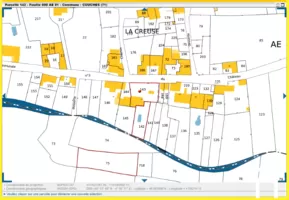 Character house with pool and garden near Couches
Ref #: PM5343D
Estate agency fees are paid by the vendor
House for sale COUCHES 71490 SAONE ET LOIRE BURGUNDY
In a quiet setting, just 1 km from medieval Couches, in the shadow of its castle, this diligently renovated 4-bedroom stonehouse is ideal for people looking for a French second home with minimum maintenance. Kitchen and dining room downstairs, with direct access to terrace and pool.
The 150 m2 house is comprised of: - on ground floor, a well-fitted kitchen and a large dining room, a bathroom with washbasin, shower and toilet; - on first floor, landing, mezzanine/TV room, bedroom 1, bathroom with bath, shower and washbasin, a separate toilet, an all-purpose room (living room/library/office – formally the main reception room/kitchen of the house); - on second floor: landing, three bedrooms, a bathroom with shower, washbasin and toilet. - Two wine cellars; - A garden extending to a stream (La Vielle), and a detached plot of land (AE 75) used as garden and orchard. - A swimming pool; Outbuildings: - On the yard, two 6mx3m garden sheds, one wood shed; - Next to the swimming pool, a wooden shed for sunbeds and chair cushions - A bread/pizza oven attached to the side of the house.
General quality
Inside:
Renovated village house in excellent general condition with garden, roof and frame in excellent condition. All windows are double glazed. Outside: The property is in excellent structural condition, gutters all around. Used waters go to the village mains drainage.
Utilities:
Water, electricity connected. Heating by electricity and a massive wood stove. Hot water via independent immersion heater. Internet connection via telephone landline, but high-speed internet planned in the near future at this address. Situation:
The property is located in a quiet setting just 1 km from the medieval village of Couches, in the shadow of its castle. The swimming pool is south facing, the garden has high hedges all around. Next to it is a nice terrace, great for sunbathing and morning breakfasts or summer lunches in a quiet setting.
There is possibility to park several cars on the courtyard. The hamlet is quiet and the environment green. Location:
Couches is also known for its wines (appellation Côtes du Couchois), and close to the more famous vineyards of Côtes des Maranges, Santenay and Côtes de Beaune, with easy access to Beaune and Chalon-sur-Saône. Not far is Mount Rome-Château on the Saint-Sernin-du-Plain mountain (543 m) to the North, and mount of the "Trois Croix" (three crosses) on the Santenay mountain, both offering numerous trekking/cycling paths, paragliding also possible from the latter.
Couches has about 1400 inhabitants and a preserved environment of vineyards, a rich architectural heritage, at the crossroad of the main Autun-Chalon and Le Creusot-Nolay-Beaune road axes, and at reasonable distance of larger cities and employment areas. This village has all the facilities necessary for families to settle in: crèche, schools, college, health centre, cultural and sporting activities, theatre, shops, farmers' market, gas station etc. Medieval Nolay is at 17 minutes' drive (13 km), and Chagny is at 16 km distance or 19 mn), with its famous Sunday open market.
Santenay's new thermal center has recently reopened next door to the casino, adding all-year round spa and therapy clients to the seasonal wine enthusiasts visiting the region.
Beaune, capital of Burgundy wines, is 29 km away or 32 minutes' drive. Le Creusot-Montceau TGV station is 19,3 km away or 24 minutes' drive, with fast connections to Paris (1h 20mn) or Lyon (40 minutes). Traveling by car, Paris is 354 km away or 3h 52 minutes and Geveva 230 km or 2h 34 minutes.
Strong points:
Four-bedroom house renovated with taste and very well maintained; Ready to move in quality.
Brand-new luxury bathroom.
8m X 4m Swimming pool with lovely adjacent covered terrace.
On 873 m2 of ground, with separate fruit or vegetable garden (940 m2), in a calm neighbourhood, in the greenery of the Vielle stream, with easy access to mounts of Mont Rome and Trois Croix, the latter overlooking Santenay, with numerous trekking paths. La Voie Verte, a renowned cycling/trekking track, runs alongside the canal du Centre, only 4,7 km away. Close to Santenay and its new thermal centre and casino at 11 km only, Beaune at 29 km.
Property# PM5343D
Quality

Terraces and balcony surface (m²)
15
Surface outbuildings m²
39
Situation
Situation
Edge of village
Other situation
Quiet area
Nearest railway station
Saint-Léger-sur-Dheune 5 km, TGV à Le Creusot-TGV
Distance Railway station (km.)
20
Airport at
Lyon Saint-Exupéry
Extra Features
Estate council tax
1 300 €
Local council tax
1 200 €
Parking for number of cars
2
Exterior features
(Wine) Cellar, Courtyard, Garden, Outside pool, Terrace, Water nearby, Work shed / Barn, Enclosed garden, Vegetable garden, Wood storage, Work shop
Other property features
Broadband available
Energy
Heating
Open fire or wood burner, Electric
Other features energy
Water well, Electricity connected, Mains water connected
Energy and climate performance
High climate efficiency
E
Consumption
(main energy source)
Estimated annual energy expenditure for average use of the property:
From 2 550 € to 3 500 € expenditure per year
Average energy prices as indexed per 01-01-2021 (standing charges included)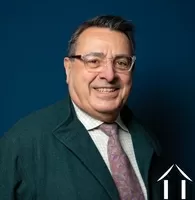 Person managing this property
Pierre Mattot
Téléphone: +33 6 51 88 44 07‬
Address: Couches
Agent Commercial 878 229 822
Couchois, vallée de la Dheune
Saône et Loire
Beautiful landscapes

Rich culture

Year-round activities

Easy acces

Well defined seasons

Renowned food and fine wines
View more