The Little House on The Prairie ?
Ref #: Li766
Estate agency fees are paid by the vendor
R:
House for sale LA CROISILLE SUR BRIANCE 87130 HAUTE VIENNE Limousin
Set back from a small county road, on the edge of the village.This small stone building to be completely renovated consists of two rooms of 215ft² each. One room is raised over a cellar, the access to which is on the exterior garden-facing facade. The other room, formerly a kitchen, has an old open fireplace with a, antique pebble floor. The roof, also old, is tiled. The house is in the corner of the plot, its rear West-facing facade overlooking the garden.  Building permission?The land, on a slight slope, is not fenced, but has a small tree hedge along the road.
The building has a water meter, but no electricity. Discussions are currently ongoing with the municipality whether to create a separate dwelling on the plot or convert the current building into a house. One of the requirements is an electricity connection. Unfortunately, the authorities have still not given a definite answer on this. There is the possibility of acquiring an additional agricultural plot of 2,850m² located 500 meters from the house, with stunning views over the valley.SurroundingsThe house is in a small village, 550m (1.800ft) above sea level, halfway between the amenities of the villages of La Croisille sur Briance, in the county of Haute-Vienne, just over 5 minutes' drive away and Chamberet, in the Corrèze, just under 10 minutes' away. Limoges is a ¾ of an hour drive and its airport just under an hour.
A file on the environment risks for this property is available at first demand. It can also be found by looking up the village on this website
georisques.gouv.fr
Property# Li766
Quality

Situation
Situation
other situation
Airport at
Limoges Bellegarde,Brive-la-Gaillarde
Extra Features
Energy
Energy and climate performance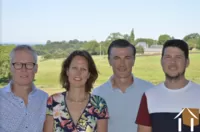 Person managing this property
Inge V d Ziel (l4u)
Téléphone: +33 (0)5 55 78 28 84
Address: La Croisille en Briance
Agent Immobilier SIRET 52190005000019
Limousin
Limousin information
Peace and space

Real seasons

400 km of Paris

Authentic farmhouses

An astonishing heritage
View more