Pied-à-terre in the centre of Beaune
Ref #: CR5404BS
Estate agency fees are paid by the vendor
R:
Apartment for sale BEAUNE 21200 COTE D'OR BURGUNDY
Charming one-bedroom apartment on the ground floor of a three-flight stone house located near the famous remparts de Beaune. The ceilings are 4 m high and have old oakwood beams, the floors are covered in burgundy stone, the windows are double glazed.
You access the apartment through the main building entrance with two different doors. The front door opens onto a 22 m² room which has been divided into two rooms, as the actual owner uses this apartment as a therapy office. Very high ceilings, wooded beams, stone tiles from Corton, with its typical beige salmon color giving the rooms a warm feeling and two double glazed double pane windows. The first room is 16 m² and gives onto the second room which is 6m² and has a stone sink in one corner. It also gives onto the waiting room with a very large toilet (accessible to wheelchairs) and the second door.
From this main room, a few steps lead down to what used to be the cellar.
The doors to this old cellar have been made to look like a big barrel giving two quarter circle doors.
In the 20 m² long cellar, the kitchen has been installed along one wall and leaves room for a sofa or a small table with chairs. This room has a window opening west onto the sidewalk of the street and a small light source from a window facing north.
After the kitchen, a toilet followed by a shower room with an atypical shower, almost triangular!
With a few modifications, this office could be transformed into a perfect pied-à-terre for wine lovers

A file on the environment risks for this property is available at first demand. It can also be found by looking up the village on this website georisques.gouv.fr
Property# CR5404BS
Quality

Situation
Nearest railway station
Beaune
Distance Railway station (km.)
1
Airport at
Lyon Saint Exupéry
Apartment details
Number of floors in building
3
Apartment features
Is on ground floor?, Interphone
Energy
Energy and climate performance
High climate efficiency
G
Consumption
(main energy source)
Property with extremely high energy consumption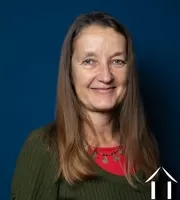 Person managing this property
Caroline Rouxel
Téléphone: +33 789418865
Address: Meursault
E.I.Agent commmercial RSAC Dijon 434 907 077
Vignes et Beaune
Beaune and Vineyards
World famous pinot noir

Wine chateaux to visit

Unesco world heritage site

Hospices de Beaune : Hotel Dieu

Coloured and glazzed roofs

Cosy Markets and famous restaurants
View more