Charming house, guest accommodation and fishing lake
Ref #: Li825
Estate agency fees are paid by the vendor
R:
House for sale DOMPS 87120 HAUTE VIENNE Limousin
This is a well renovated stone property, located in a small hamlet along a dead-end road, comprising a 3-bed renovated barn, a guest cottage with one bedroom, two outbuildings of approximately 430ft² and a nearby one-acre fishing lake.The houseThe main house consists, on the ground floor, of a ca. 650ft² living room with a fitted kitchen, large fireplace with a recent wood burner. There is a rustic and warm charm about the solid wood floors, exposed stones, and beams. French doors open out onto the West-facing gravelled terrace located at the rear of the buildings.
To the right of the entrance, a vast technical and storage area with a concrete floor, lined walls, and insulated ceilings, is divided into a garage and workshop (>430ft²), and a utility room (ca.140ft²). On the first floor, a big central landing (185ft² and almost 270ft² of floor space) could be developed for relaxing or for storage. Two skylight windows provide the necessary light for this space. Around the landing, you have a 90ft² family bathroom with a WC, two 113ft² and 183ft² double bedrooms, as well as a 226ft² master bedroom with its 75ft² private bathroom/toilet. The floors and doors are all made of solid wood, the roof framework is partly exposed and so are the walls of the bedrooms displaying nicely pointed stones. Heating is provided by a wood-burning stove in the living room and by recent electric radiators in the other rooms. The house has an up-to-date septic tank. The natural slate roof was completely renovated in 2009. All the windows are made of wood and double glazed, and of course the doors are in solid wood. The cottageA small former barn that is attached to the house has been converted by the owners into a guest house. It consists of a 410ft² living area with a fitted kitchen and a wood burner. As we are in former animal stables, the ceiling height is between 6'1" and 6'6". A staircase leads to a 310ft² bedroom with a ceiling that is opened to the roof ridge, with storage cupboards and a 47ft² bathroom with shower, bath, and toilet. The outbuildingsPartly attached to the main house, a stone outbuilding of nearly 430ft² and 3 rooms will be perfect for animals, a workshop or storage, or to create another gite. The landThe buildings are laid over a relatively flat plot of more than one acre. It is fenced and lined with hedges and trees. Two gates, one on either side of the buildings, make it possible for several vehicles to park in two gravelled areas. Two terraces, a gravelled one and a wooden one, allow you to enjoy the magnificent sunsets in the area, as they are West facing. A tiny rural path (pedestrian only) separates the adjoining land from a 2/3 acre fenced-in meadow, perfect for keeping animals. The lakeA ca. one-acre lake located 300 yards from the house within lush greenery, is an asset to this property and gives it a unique touch. Positioned in the middle of a plot of just over 2 ½ acres, it was created at the end of the 1980's and is fed by a natural underground spring which runs through it and continues its way into the nearby woods. Far from being abandoned, this lake has been well maintained by its owners and showcases their property beautifully. A 130ft² wooden fisherman's hut with its wooden front terrace is the ideal spot to enjoy the surrounding peace while enjoying your fishing. Access and amenitiesThis property is located in a cul-de-sac hamlet, in the small village of Domps, in the Millevaches regional park. It is 15 minutes from the Corrèze village of Chamberet and its amenities, 20 minutes from the picturesque small towns of Eymoutiers, on the banks of the Vienne River and Treignac where the Vézère river flows. Limoges' centre is 55 minutes by car and its airport 65 minutes.
A file on the environment risks for this property is available at first demand. It can also be found by looking up the village on this website
georisques.gouv.fr
Property# Li825
Quality

Situation
Situation
other situation
Airport at
Limoges Bellegarde,Brive-la-Gaillarde
Extra Features
Energy
Heating
Electric, Wood (chip) fired
Energy and climate performance
High climate efficiency
E
Consumption
(main energy source)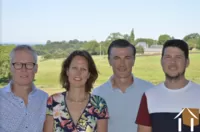 Person managing this property
Inge V d Ziel (l4u)
Téléphone: +33 (0)5 55 78 28 84
Address: La Croisille en Briance
Agent Immobilier SIRET 52190005000019
Limousin
Limousin information
Peace and space

Real seasons

400 km of Paris

Authentic farmhouses

An astonishing heritage
View more