Your first house purchase in the Limousin?
Ref #: Li853
Estate agency fees are paid by the vendor
House for sale MASSERET 19510 CORREZE Limousin
This renovated 2-bedroom stone house offers great possibilities. In addition to the house, there is a spacious garage with an office/storage above, a large veranda, a terrace and a garden shed, all on a fenced garden plot of ¼ acre with a vegetable garden and a greenhouse. Whether as a holiday home, as a main house, or even as a year-round rental, its easy access to amenities, to Limoges and Brive-la-Gaillarde's town centres in just over 30 minutes' drive offers a lot of potential to its future owners.
  The house  An external staircase leads up to the Southwest-facing canopied entrance porch, then to the entrance hall (~4'10" x 11'9"). The right part of the ground floor is raised over a cellar, accessible through an exterior door located in front of the house. There is a cloakroom to the right of the entrance (~3'6" x 4'2"). Then a living room (~19'3" x 24'6") that includes an open-plan kitchen area and an office area with a gas-fired burner, gives access to the North-East-facing tiled veranda (~11'1" x 22'3") with double-glazed wooden joinery. A clear Plexi roof brings in a lot of light and heat and you can protect yourself from the sun thanks to the retractable blinds above it.  On the first floor, the staircase leads to a landing/clearance (~7'7" x 12'3") with a Velux window, with enough space for an office or reading area, then to a bathroom with bathtub, shower, and toilet. A dormer window with an electric roller shutter opens out to the unobstructed view at the front. A small passageway then leads to a front and a back attic bedroom (~7'7" x 12'6" each) with solid chestnut floors, one of which has a Velux window.  Since you are on the outskirts of the village, you benefit from a mains drainage connection. The house is powered by two heat pumps: the first is connected to a tank to provide hot water. The second provides heating in the living room and in the two 1st floor bedrooms. An older gas heating system with independent radiators can be removed (a large tank is at the rear of the garden), unless you wish to keep the tank, as it also supplies the stove in the living room. The front part of the house's roof and that of the garage were recently redone in natural slate.  The outbuildings and the gardenA large garage (~15'2" x 20'8") is adjacent to the house. It has two openings, an electric sliding front door allows you to park a car or a large van/camper van straight from the road, a second door with a window on the side allows pedestrians to access it from the garden. The garage is partly converted into a utility room with a sink and a washing machine. A solid wooden staircase goes up to converted and insulated workspace/office (~13'9" x 15') with a Velux roof window. The hot water tank for the heat pump is also housed there.  In addition, an independent wooden garden shed is very useful for stowing your tools away. The garden is completely fenced in with two double wrought iron gates. A vegetable garden with a glass greenhouse is in use at the top of the garden. It is very pleasant with its various flower and plant beds, its fruit, and ornamental trees.  Access and amenitiesIt is the ideal place to enjoy the countryside. You are in a quiet place but not isolated. You can do your essential shopping on foot, but access to the main road and the motorway is just a stone's throw away. Magnac-Bourg, its amenities and its supermarket are around ten minutes' drive away. Uzerche, its life and its many shops, is about fifteen minutes away. The southern shopping area of Limoges is just over 20 minutes away. Limoges and Brive-la-Gaillarde centres are 35 minutes away.
A file on the environment risks for this property is available at first demand. It can also be found by looking up the village on this website
georisques.gouv.fr
Property# Li853
Quality

Situation
Airport at
Limoges Bellegarde,Brive-la-Gaillarde
Extra Features
Energy
Energy and climate performance
High climate efficiency
D
Consumption
(main energy source)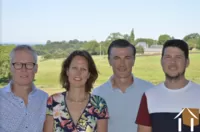 Person managing this property
Inge V d Ziel (l4u)
Téléphone: +33 (0)5 55 78 28 84
Address: La Croisille en Briance
Agent Immobilier SIRET 52190005000019
Limousin
Limousin information
Peace and space

Real seasons

400 km of Paris

Authentic farmhouses

An astonishing heritage
View more