Building site for two houses with beautiful view
Ref #: RP5192M
Estate agency fees are paid by the vendor
Building land for sale ST HONORE LES BAINS 58360 NIEVRE BURGUNDY
Situated in the South Morvan, on the edge of a pleasant town with many amenities, this building plot has a great unobstructed view of the town, the surrounding meadows and the forests. At the edge of the plot, along the road, electricity, water and sewerage can be connected.
The plot is right on the edge of the municipality, so the last two house can be built here. Hence, the view remains unobstructed.
Saint Honore les Bains is a well-known spa resort with a supermarket, a bakery, a weekly market, garages and petrol stations, various restaurants, a swimming pool, mini golf course, tennis courts and the famous thermal baths.
The Morvan is a vast nature reserve with an impressive nature, endless walking, (terrain) cycling and equestrian routes, endless views and the clearest starry sky in France. In the center of the Morvan is the Mont Beuvray, where the famous Celtic town of Bibracte, with its 5.5 kilometers long city walls. It once ruled the area until Julius Caesar romanized the region. There is now a museum and excavations are still in progress.
Property# RP5192M
Quality

Situation
Situation
Edge of village
Other situation
Nice views
Nearest railway station
Cercy la Tour 18 km, Creusot Gare TGV 75 km
Extra Features
Energy
Energy and climate performance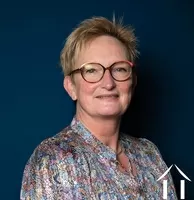 Person managing this property
Janet de Bont - Zeephat
Téléphone: 06 02 24 02 49‬
Address: Le Bourg, 71190 Saint Nizier sur Arroux
Agent commercial Macon 530 903 764
Arroux , sud Autun
Nievre
Beautiful landscapes

Rich culture

Year-round activities

Easy acces

Well defined seasons
View more